Boeing B-17 Flying Fortress


B-17G (96th Bomb Group 8th Air Force)
The B-17 Flying Fortress is probably the most famous American bomber of WW II. The B-17 was manufactured from July 1935 through April of 1945. The B-17 was a high altitude heavy bomber with four engines and a normal payload of 6,000 lbs. The bomb load could be increased to 12,800 lbs for short flights.
Beginning with the B-17E the bomber offered considerable defensive armament. Twin .50 caliber machine guns were mounted in the tail, nose, dorsal, and belly positions, in addition there were three single .50 caliber machine guns, two in the waist and one in the radio operators post. 12,731 B-17 bombers were produced.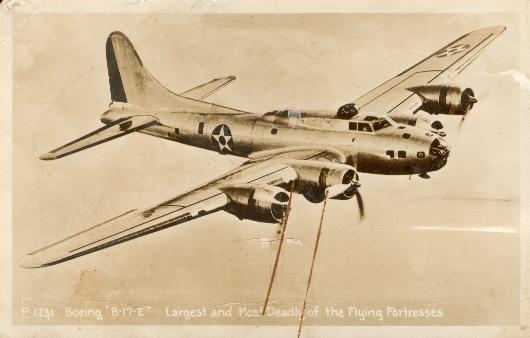 WW II era Postcard from Hendricks Field, courtesy of Sebring Historical Society
B-17 information taken from The Encyclopedia of the World's Combat Aircraft, edited by Iain Parson, published by Chartwell Books Inc, New York, 1976.

Back to Hendricks Field