Consolidated Vultee B-24 Liberator


B-24J 392nd Bombardment Group, 2nd Air Division, 8th Air Force
The B-24 was first issued to US units in November of 1941 with the B-24C variant, although England had taken delivery of earlier variants beginning in June of 1941. The B-24 used a new wing design, called the Davis wing, that caused some experts to question whether it would fly at all. Not only did it fly but 19,203 B-24 bombers were produced during WW II more than any other US bomber. Production ended May 31st, 1945.
The B-24 carried a typical payload of 8,000lbs, 2,000lbs more than the B-17, and the B-24 could carry this payload further than the B-17. Despite these advantages the B-17 is by far the more famous bomber, perhaps in part to their respective nicknames. The B-17 was widely known as the "Flying Fortress." The B-24, dubbed the "Liberator" in England, was nicknamed the "Flying Boxcar" in the United States.
The typical defensive armament on the B-24 (beginning with the B-24D variant) was twin .50 caliber machine bun turrets in the nose, tail, belly, and dorsal (top) positions. In addition there were two single .50 caliber waist guns.

The Collings Foundation has an operating B-24, as well as other planes, that tours the country. To view the show schedule at the Collings Foundation site click here.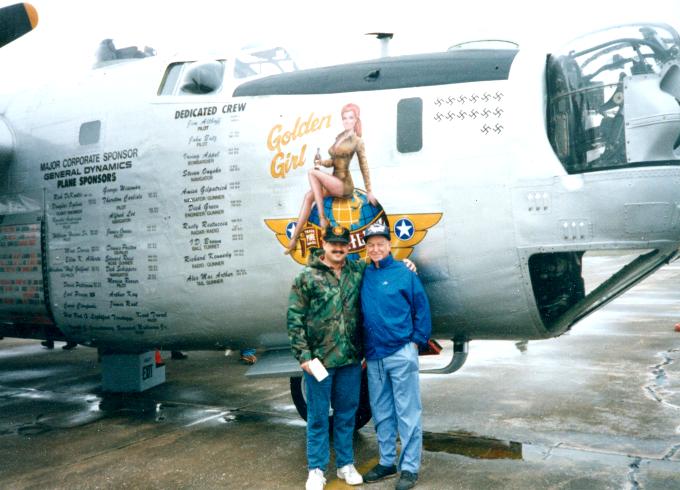 My Grandfather and I, 1997, at a Collings Foundation fly in at Sebring Airport,
the former WW II training airbase Hendricks Field.
B-24 information taken from The Encyclopedia of the World's Combat Aircraft, edited by Iain Parson, published by Chartwell Books Inc, New York, 1976.
Back to main page
Back to 80th Bomb Squadron Page